The Crumm Mountain Re-Education Center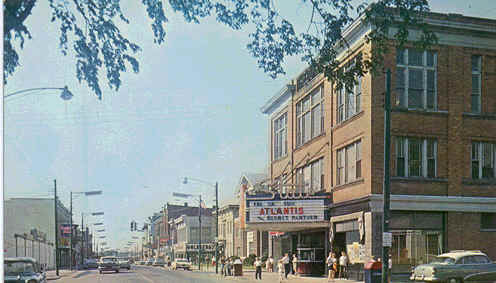 (Circa 1955)
456 Bart Podpadic Commons
Crumm Mountain, NY
President
Martin Delgrasso
Academics Faculty Gift store Concert hall Prospective Students
At the Re-Education Center, you can find...
Live music (weekends)
recorded music (punk,ska,hardcore,alternative)
political material (books, periodicals, zines)
accessories (t-shirts, pins, bumper stickers)
Sign up today
Free!
Steal This Education!
And of course, the re-education.
Recommended courses for beginners
1. De-brainwashing (how American media programs us to conform, through insult-based television shows and the like)
2. USA Bad, Very Bad: Well it is
3. Studies in Mass Media (includes lessons on guerrilla
broadcasting) With Robert Conklin, asst. Sean Bennett
4. Labor History 101
With Vivian Shattuck and Assist. Sean Bennett
5. Studies of Armed Revolutionary Conflict
6. Free Breakfast, Free Lunch, and Free Dinner: Studies in how
to live free for free
7. How to beat the system
The Global Pillage: How multinational corporations are exploiting workers and undermining democracy
Steal This Presidency: How the Republicans subverted election 2000
Democracy Now And Then
Feature Courses and degree programs
Economics
Planned Economies 100
Free Market Economies 100
The Collective Economy
Cooperative Economics
Participatory Economics
The Syndicalist System
Political Science
Introduction to Shoplifting 100
English Department
Confrontational Writing
Real Journalism
Notable Alumni Include
Sean Bennett-Founder of Crumm Mountain Resistance Radio, and United Perverts Records, and a writer for periodicals such as Desperate Times, Liberation, Uproar, and Concerned Citizen
Lisa James-Writer for the Crumm Mountain Voice
Instructors Include
President Martin Delgrasso
Robert Conklin-Journalism Studies
Vivian Shattuck-Labor Studies
Martin Delgrasso-Labor Studies
Maude Murdoch-Economics
Elliot Kroehner-Economics
Luke Zawaideh-Political science
The Crumm Mountain Re-education Center functions something like a traditional university with several different schools devoted to a particular discipline. It wasn't always this way. When we began in 1972 we offered only several courses and followed a radical curriculum. Today, the re-ecuation center is comprised of four different institutions and has an average annual enrollment of 4,500 students.
The Eugene Kramkowski School of Labor Studies
The Center for Social and Historical Research
The Crumm Mountain School of Economic Sciences
The Cassandra Karas School of Journalism
The Eugene Kramkowski School of Labor Studies
Allows students to explore a wide variety of studies relating to the growth and development of organized labor movements.
Dean: Dr. Bruce Gottfried
Courses offered
American Labor History: A Survey Course
The Medieval Guild System
Industrial Unionism
Labor and Terrorism
Labor and Politics
American Labor Law
The Development of the AFL-CIO
The Decline of Labor
Child Labor
The Center for Social and Historical Research:
Allows students a deeper learning experience with the social sciences.
Dean: Dr. Luke Sales
Political Science
Intro to Urban Politics
American Politics
International Govts.: Survey course
Peoples History of the United States: Howard Ruttenberg
Roman Civilization: Dr. Luke Sales
Greek Civilization: Dr. Luke Sales
Medieval Europe
Eastern Europe Post-Soviet Empire: Paul Barkevich
Mass Media Center
Introduces students to the workings of mass media, allowing them to pursue legitimate careers in the media, or to establish their own media organizations.
Students are taught the basics of how to publish small, but successful publications, to broadcast pirate radio, and how to organize independent television programs for public access facilities.
Dean: Dr. Bob Conklin
The Crumm Mountain School of Economic Sciences
The flagship institution here at the Re-education Center, the School of Economic Sciences, allows both non-graduate and graduate students.
Planned Economies: Vivian Shattuck
Participatory Economics:
Cooperative Economics: Vivian Shattuck
Religious Communitarianism: Vivian Shattuck
Free Market Theories and Realities: Howard Ruttenberg