The City of Crumm Mountain, NY
|
home




Music

Date

Bands

Info

Venue

Fri 8.16.02

Jonothon Dildofinger record release party

Weakest Link, The Traps, Victimless Crime, Axis of Evil, The Defectives, Perpetual Motion Machine, Pedophile Priests

8 of Cm's best bands! Wow! You just can't beat this. Nope. No way no how.

After a five year hiatus, incestous country singer Jonothon Dildofingers is back with a new full length album.

it's called "drinkin' from the toilet with the dogs", and it contains the new hit The Ballad of Oedipus Rex.

Fri 4.26.02

Appeal To Reason, The Cutthroats, Bound and Gagged, Yessir, The Pollyannas, and The Legitimate Targets

All I can say is that this is a great fuckin bill. There just ain't nowhere else to be.

All Ages

5PM 10.00

The Black Cafe

Sun 4.14.02

The Sunday Show

The Super Menendez Bros., Fashion Victims, Bound and gagged, The Cutthroats, The Degenerates, The Incubators

Well what can I say, another great Sunday show at the Re-Ed Camp. The SMB's are busy recording their new album and decided to take a break and do a show. The Incubators are a fast and furious punk band on On Strike Records. Bound and Gagged play 77-style UK punk. The Cutthroats are pretty nasty, and not too easy on the ears. The Degenerates are more of the same, and might be signing a deal with On Strike Records. The Fashion Victims are just a bunch of kids.

The Peoples

Auditorium at

The Re-Education Camp, Crumm

Mountain, NY

Sat 4.13.02

The Four Whores of the Apocalypse, The Needles, The Sans Culottes, The Big Gulps, and The Tracy's

Wow, what a great fuckin show. Nothing but serious quality bands on this bill here. The 4whores are a classic street punk band on Protected Class Records. The Needles as well are a street punk band on Protected Class. The Sans-Culottes are unsigned, but still great. The Big Gulps are a very dirty and sexual band, great stuff. The Tracy's, they're a poppier punk band from Cobleskill.

All Ages

4PM Sharp 10 bucks

Smoke and Mirrors, Crumm Mountain, NY

Fri 4.12.02

The Bad Connections, Sink or Swim, The Mental Midgets, Rat eater

This show features some of the Mohawk Valley's lighter punk rock acts. The Bad Connections are relatively new and beginning to make a name for themselves. Sink or swim are doing the same. The Mental Midgets have a new album due out on On Strike Records. The Johnny Walkers have a 7inch on On Strike.

All Ages

6PM bucks

The Rundown Cafe, Crumm Mountain, NY

Fri 4.12.02

El Dorado 57790, The Booger Flickers, Slit Wrists, Room 101, The Legitimate Targets, The Pissed-Ons

This show is mostly for fans of faster political punk rock. ED57790 are a new band from Utica, Booger Flickers play grimey gutter punk. Room 101 play UK style hardcore punk. LT's are from Herkimer, The Slit wrists and Pissed-ons are veterans of the CM punk scene

All ages

5:00 PM

The Peoples Auditorium at

The Re-Education Center, Crumm Mountain

Fri 4.5.02

Typhus, Berkman, The Cutthroats, El Dorado 57790, Talentless Hacks, The Pissed Ons, and Peach Fuzz

Most of the bands on this bill are harder edged punk rock. Typhus features Bisley Marcrome of For The Fairest, who recently broke up. The Cutthroats are a new streetpunk band making a name for themselves in the area. El Dorado are just a bunch of local kids, who may or may not be serious, The hax, are proven crowd pleasers, The Pissed Ons are streetpunk classics, and I don't think I've ever heard of Peach Fuzz.

Show starts at 7:00 PM sharp

Ages 8 and under please

No dress code in effect

The Run Down Cafe, Crumm Mountain, NY

Fri 4.5.02

The Prunes, The Booger Flickers, The Degenerates, Teachers Pets, No use for a girlfriend, Obediance School

The Prunes are a lighter punk group on Protected Class Records, Booger Flickers are pop/punk and on On Strike Records. The Degenerates are an unsigned band that plays edgier pop/punk. Teachers pets, and NUFAG, are on On Strike, and Obediance School are an unsigned punk group

The fun begins at 8 pm

All Ages, come as you are

The Re-Education Center, Crumm Mountain, NY

Sun 3.17.02

The Sunday Show

The Booger Flickers, Needles, Puppy Love, Rough Draft, Sorry Doesn't Cut It, Who's Kidding Who, Zoo Keepers,

All Ears, The Leaky Umbrellas,

Well, it's the Sunday show. A bunch of bands you may have never heard of, and may never hear again. The point is, to have a good time. Some of these guys are serious some aren't. Don't try to decide for yourself, they don't like that.

The Re-Education Center, Crumm Mountain, NY

Sat 3.16.02

Special St. Patricks Day Show: Molly Maguires, Exposed as frauds, The Takeouts, The Hatlees, Christopher McAdams, Couple Skate Only

This is a pretty divers bill, featuring The Molly Maguires, a local political punk act; EaF's, a local hardcore act, The Takeouts, play irish folk-inspired punk/ska; The Hatlees are a family folk/rock act from Cobleskill; Christopher McAdams, well he's the fuckin pride of Warnerville, NY.

Show begins at 5pm All Ages, admission: 10.00

The Rundown Cafe, Crumm Mountain, NY

Fri 3.15.02

The Meltdowns, Sink or swim, The Prunes, The Cutthroats, The Lumpenproletariat





The Meltdowns are fast, cruddy street punk on On Strike Records; Sink or Swim, are a punk band on tour from New Hampshire;The Prunes are a lighter alternative act on Protected Class Records; The Lumpenproletariat are a relatively new act from Crumm Mountain Show starts 6 pm, under 21 please

Admission: 5.00

The Re-Education Center, Crumm Mountain, NY

Fri 3.15.02

Lousy lovers, The Golden Girls, All hope is lost, Fetish, Outer Circle, Just Visiting

What a fantastic show. But there might be some tension in the air, see Jealous Johnny used to play in The Bad Lovers, but left under unfriendly conditions and now plays in the Golden Girls, the rest of Bad Lovers went on to form Lousy Lovers, other bands on the bill are well known locals Show starts at 8PM 5 years old and under please

Admission: 5.00

The Rundown Cafe, Crumm Mountain, NY

Thu 2.15.02

Slouching Towards Gomorrha, Hold That Thought, Talentless Hacks, Defendents

STG, are a great political punk band from Cazenovia, NY. HTT, are from Montreal, Talentless Hacks play hardcore punk, and Defendents are from CM, and play street punk

The re-education center, Chlymidia Mountain, NY

SAT 2.16.02

Falameezar, The Troops, The New York Times, Just Visiting, Output, Runny Nose, and Self Entitled

This bill happens to feature mostly pop/punk bands, most of which aren't from CM, and are either on tour, or just visiting from out of town.

Smoke and Mirrors, Chlymidia Mountain, NY

SAT 12.22.01

American Steel, People who need people, The Repeat Offenders, The Travoltas, Crumble

American Steel, are a street punk band on Lookout!, People who need people are a local pop/punk group. The Repeat Offenders play clever pop/punk, The Travoltas, are a touring act, and Crumble are a local HC/punk group

Starts @ 5PM, 10.00, 21 and under please

The re-education center

Chlymidia Mountain, NY

SUN 12.23.01

Ladyfingers, Ballistics, Mass Grave, Contra, Puppy Love, Red Diaper Babies

Ladyfingers are a great new local pop/punk band. Ballistics are from Texas and play political HC/punk. Mass grave play HC and are from Rochester, NY. Contra are from LI, and play politically-oriented HC/Punk. Puppy Love, are a local band that plays upbeat pop/punk. Red Diaper Babies, play political street punk. Very diverse bill

Show starts @ noon, 10 bucks, all ages.

THE RE-EDUCATION CENTER, Chlymidia Mountain, NY

FRI 12.28.01

The Mental Midgets, Kurt Cobain, The Sacred Cows, Rage Against The Washing Machine, The Molly Maguires, and Blushing Bride

The Mental Midgets,RATWM, and Molly Maguires are all local pop/punk bands on On Strike Records. Kurt Cobain, is a pop/punk outfit out of Newburgh, NY. Sacred Cows are from, well actually I don't know where they're from. Blushing Bride is a new punk group from NH.

Show starts @ 5pm, 5 bucks,

all ages please.

The Whorehouse, Chlymidia Mountain, NY

If your in a punk band and you want to play at a punk show here in Crumm Mountain. Be patient. There are alot of bands that want to play here, and we want to accomodate all of them. There are only so many clubs, and there are only so many weekends.
Clubs to play at
The Peoples Auditorium, at The Crumm Re-Education Camp
Smoke and mirrors
The Black Cafe
The Whorehouse (once in a while)
Beyond The Pale (Closed until Summer)
Now that Napster and Audiogalaxy are inaccessible, here are a few other music filesharing sites.
Blobster
Madster
Kazaa
Grokster
Morpheus
imesh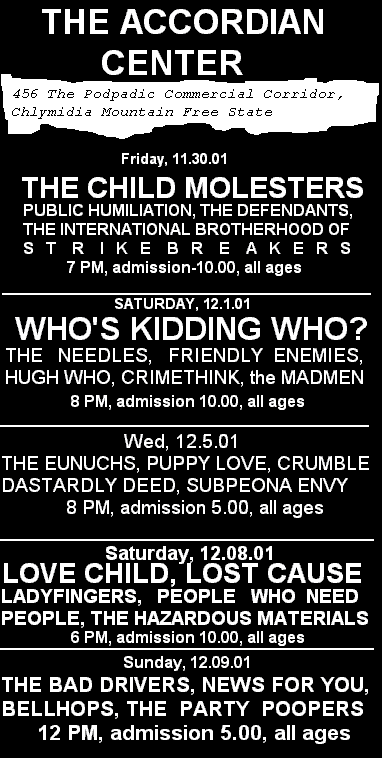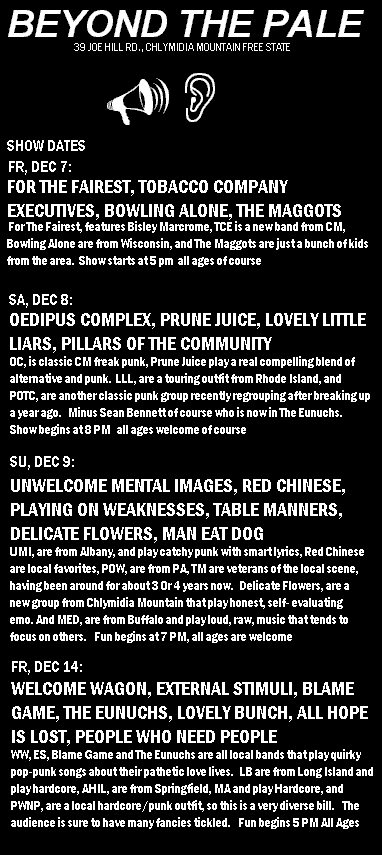 Bands you may have heard of in Chlymidia Mountain
Alphabetized for your convenience
Advisors, the: local act performed several shows in Fall of 99 and Winter of 00, broke up shortly thereafter
All Hope Is Lost: Dynamic hardcore outfit from Springfield MA, have performed several times in CM over the last three or four years
Appeal To Reason: Formed in late 99, this anarcho-socialist punk group, has recently been signed to Uproar Records, and plans to release a full length album sometime in the near future.
Bad Drivers, the: Pop/punk act formed some time in 1999. Has performed intermittently since then. Has not recorded or released any music as of yet.
Beauty Pageant: Local alternative act formed in 1998, signed to Protected Class Records, has released several singles and three full length albums, currently performing and recording music
Bedside Manure: CM-based country/punk/garage outfit, formed in 1998, broke up in 2000, released several full length albums on Protected Class Records
Bellhops, the: May have formed in late 00. From the Capital Region. Have performed in CM several times
Berkman: Heavily political Anarcho-punk band from Crumm Mountain. The band formed in 1995, released an album, toured nationally, and broke up in 1998. It's members when on to play in bands such as The Trotskyists, For The Fairest, General Strike, and The What Time Is It's. Word on the street has it that a reunion may be in the works.
Big Bad Bertha Hann: Eclectic folk/jazz singer doubles as leftist talk radio host and local troublemaker. Has been performing her irreverent folk songs locally for over 10 years, has released several full length albums on many different local labels, and regularly performs to this day. Her and Sean Bennett put out an album of folk songs in 2000 titled Who Let The Dogs In? That was her most recent release.
Big Fat Smelly Pussy: Binghamton-based punk group, ostensibly fixated with vulgar characterizations of female anatomy. (Whats in a name?) Formed in 1999, performs regularly in CM, and was signed to Kill Your Stereo Records, and have released three singles, appeared on several local comps, and are rumored to be working on a full length album.
Blame Game, the: Local pop/punk act, formed in 2001, performs sporadically, no material yet recorded.
Blah Blah Blah: Local Punk band formed in 2000, signed to On Strike Records after appearing on several local punk comps. Performs regularly and is presently in studio working on material.
Booger Flickers, The: Dynamic punk group with wide influences including pop/punk and hardcore punk, features Sean Bennett of Stunted Growth and Leeches fame. The band formed in 2000, and has so far released one full length album on On Strike Records, the label Bennett founded in 1998
Bundles of Joy, the: Acoustic duo featuring Sean Bennett, and Bobert Robb, although the two released two albums under this name, they no longer use the name, however they still use the songs. Both Sean Bennett and Bobert Robb are presently in The Booger Flickers, a punk group. The two are contemplating reforming an acoustic-only outfit for folk and country songs.
Child Molesters, the: Originally from Middletown, NY, the band came to CM in 1995, and has released several succesful full length albums. They are presently with On Strike Records, and have just released a succesful album, and are touring actively in support of it.
Chosen Ones, the: Formed in CM in 1996, signed to Kill Your Stereo Records in 1998 and still alive and kicking. Gritty street punk, a la NOFX, Screeching Weasel, the Nobody's
Dillonbecker, Jonothan: Truly disturbed country singer, with songs about incest and bestiality, has been performing in CM since 1996, was is I Eat Feces, from 1996-1999. Was on Fresh Bale Records until they went bankrupt in 1999, is now searching for record label.
Do Not Rescuscitate: Local hardcore/punk legends. Formed in 1990, signed to Crash n Bleed Out Records in 1994, broke up in 1998.
Famous Last Words: Very popular punk/hardcore band migrated to CM in 1998, broke up in 2001, regroups for concerts periodically
Hunter-gatherers, the: Local political punk outfit, formed in 1997, performed immensely, appeared on some comps, and then broke up in 2000.
Johnny Walkers, The: The band is a side project featuring Smith Smith of the Nancy Boys, and Avery Pierson of For The Fairest.
Prunes, The: Light-hearted pop/punk band, formed in 1992, in Ithaca, NY, moved to Crumm Mountain in 1997, signed to Protected Class Records in 1998, and to this day, performs regularly in the area. Plans for a regional tour are reportedly underway.
On Strike Records and Press: This company has been around, for quote some time.
The Child Molesters
PO Box 2218
Middletown, NY
-Touched By An Archbishop
-Innocent Eyes
-If This Confession Booths A Rockiní Donít come A Knockiní
-Chicken Soup For the Child Molesters Soul
The Dirty, Cum-Guzzling Gutter Sluts
43 Prospect Ave.
Dayton, OH
-Fasten Your Chastity Belt
The Eunuchs
POB 319
Richmondville, NY 12149
-Emotionally Disturbed
-Chixdon'tdiggit
Bertha Hann
42 McArthur Ave.
Cobleskill, NY 12043
-Thereís No Government Like No Government
-If Women Are From Mars and Men Are From Venus, Iím From Your Anus
-Songs of the locomotive
Hands And Knees
PO Box 4222
Centralia, IL
-Coming to a religious compound near you
The Menendez Brothers
87309 Deleware Ave.
Cleveland, OH
-Coke Whore
-Taking a quick break from perfection
-When youíve just mercilessly slaughtered your parents and youíve got nothing else to do
The Navy Blue Cocktail Dresses
PO Box 760
Syracuse, NY
-Itís the stupidity, stupid
-Canít hardly masturbate
Giuliani Time
New York, NY
-Taking the blackjack to justice
-Itís Giuliani Time
-I wish I was a cop so I could get away with murder too
Pillars Of The Community
375 Chairman Mao Blvd.
Chlymidia Mountain, NY
-Who let the dogs in?
-Chixdonítdiggit
The Retards
3489 Jefferson St.
Watertown, NY
-I know who you did last summer
-Better lock me up
The Risk Factors
PO Box 1127
New Haven, CT.
-A spoonful of sugar
-Shut up and take your medication
Slime Trail
53 Albany St.
Cazenovia, NY
-Futility is resistance
-Balancing the budget on the back of an album (the fiscal album)
-A million flies canít be wrong
-Banal attraction
-Slime doesnít pay
Slouching Towards Gomorrah
854 Saratoga Ave.
Glens Falls, NY
-Vast right wing embarrassment
-The best little whorehouse in Washington DC
-Your tax dollars at work
-Democracy in the balance
-And loving every minute of it
-Wake me when the revolutions over
Various Artists
-Greetings and salutations from Chlymidia Mountain 4
-Protected Class Records-
Beauty Pageant
PO Box 78
Canajoharie, NY
-Looting teaches young people good things
-Adding insult to democracy
Bedside Manure
47J Zapata Blvd.
Chlymidia Mountain, NY
-A chicken in every pot
-fecal
-Life in the tower
Bundles Of Joy
31 George Brown Plaza
Amityville Harbor, NY
-Castrato
-Vermifuge
-Curette lickiní good
-Looked better on paper
The Garbage Trucks
328 E. Park Ave.
Long Beach, NY
-All garbage is relative
-Everymans junk
Lunge
PO Box 59309
Kingston, NY
-Raped by my astral body
-So sue me
Mohandas Toxin
PO Box 89221
Chicago, IL.
-Dermatologist recommended
-An apple a day...
Prune Juice
890 Charles Pl.
Spring Valley, NY
-Spontaneous human compassion
-Donít move
Sleaze Doodles
PO Box 501
Richfield Springs, NY
-She doesnít mind my disease
-Brutally Dishonest
Slit Wrists
937 Alexander Place
Little Falls, NY
-Not that it matters anyway
-An eye for detail
Smelt
PO Box 23
Montpelier, VT.
-Helter Smelter
-Carrion bag
Squeaky Wheels
883 Goldman St.
Chlymidia Mountain, NY
-Bubble Stretcher
-Luddite
Table Manners
47 Bakunin Ave.
Chlymidia Mountain, NY
-Fast food, slow death
-Every mothers worst nightmare
Various Artists
-Less then meets the eye 1
-Less then meets the eye 2
-Beauty and the beating: a tribute to the gogoís
play dead
boring you to death
i was raped by sean bennett
fasten your chastity belt
be true to your school
throw a temper tantrum over you
i didn't want to go to your stupid birthday party anyway
heartbreaker
hot for student
she's not having my baby
too bad were related
good enough to eat
your just jealous
Date

Bands

Info

Venue

FRI 12.21.01

The Eyeliners, Crimethink, Bigwig, The Needles,

The Eyeliners, play poppy-punk and have an album out on Lookout Records. Crimethink are a local punk group, Bigwig, are from New Jersey and have material on Fearless Records, The Needles are from Little Falls, but have been performing here a lot lately Starts @ 6pm

10.00, 21 and under, please

The re-education center, Chlymidia Mountain, NY

FRI 12.21.01

The Golden Girls, Menendez Brothers, Misnomer, The Defendants

The Golden Girls are local veterans featuring Jealous Johnny. The Menendez Brothers, as well are local heroes with music out on On Strike Records. The Misnomers are a local punk outfit featuring Sean Bennett, The Defendants are a local punk group Starts @ 7PM, 5.00, All Ages, please

Beyond The Pale

Chlymidia Mountain, NY

SAT 12.22.01

American Steel, People who need people, The Repeat Offenders, The Travoltas, Crumble

American Steel, are a street punk band on Lookout!, People who need people are a local pop/punk group. The Repeat Offenders play clever pop/punk, The Travoltas, are a touring act, and Crumble are a local HC/punk group

Starts @ 5PM, 10.00, 21 and under please

The re-education center

Chlymidia Mountain, NY

SUN 12.23.01

Ladyfingers, Ballistics, Mass Grave, Contra, Puppy Love, Red Diaper Babies

Ladyfingers are a great new local pop/punk band. Ballistics are from Texas and play political HC/punk. Mass grave play HC and are from Rochester, NY. Contra are from LI, and play politically-oriented HC/Punk. Puppy Love, are a local band that plays upbeat pop/punk. Red Diaper Babies, play political street punk. Very diverse bill

Show starts @ noon, 10 bucks, all ages.

THE RE-EDUCATION CENTER, Chlymidia Mountain, NY

FRI 12.28.01

The Mental Midgets, Kurt Cobain, The Sacred Cows, Rage Against The Washing Machine, The Molly Maguires, and Blushing Bride

The Mental Midgets,RATWM, and Molly Maguires are all local pop/punk bands on On Strike Records. Kurt Cobain, is a pop/punk outfit out of Newburgh, NY. Sacred Cows are from, well actually I don't know where they're from. Blushing Bride is a new punk group from NH.

Show starts @ 5pm, 5 bucks,

all ages please.

The Whorehouse, Chlymidia Mountain, NY